Join us for the 2022 Leadership Conference!
6/22/2022
Date:
09.22 - 23.2022
Location:
Hilton Downtown Columbus
. ​This conference is in-person, with no virtual option.
Educational Credits:
11.5 (Contact Hours)
Cost:
$200 Member / $400 Non-member
Hotel block:
$189 plus tax.
Click here to reserve a room with the special rate.
The deadline for the hotel block is Sept. 1.
Strong leadership skills are essential to the success of school business officials. Whether you are brand new to the profession or a 20-year veteran, continuing to build strong leadership skills is important.
Join us Sept. 22-23 for our annual Leadership Conference to learn how your leadership is uniquely shaped, and how to lead others better using these powerful tools. All OASBO members are invited & encouraged to register, but seats are limited so register today!
The conference includes sessions featuring Dr. Melissa Crum, Jones Loflin, Katlin Hall, and Eagle's Flight.
Click here to register!
Featured Speakers!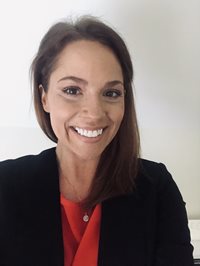 Katlin Hall
President & Founder, improve2grow

Katlin Hall: Champion of learning & development, improvisation, and behavioral science. Her positive energy has helped bring to life training for The Cleveland Cavaliers, The Brooklyn Nets, Howard Hanna, Paylocity, and Nike.

After graduating from Miami University's business school, she embarked upon Corporate America selling Challenger at CEB now Gartner. Katlin then joined the famous comedy theater, The Second City Chicago. Here she was a frontier in bringing the principles of improv to corporate America.

Katlin's currently the founder of improv2grow, a corporate training company which marries her background in Challenger, improvisation, and behavioral science. Her experimental, improvisation-based workshops have been delivered to over 200 audiences, in 7 states, leaving over 10,000 people with improvisation skills to improve communication, leadership, and employee engagement.

People are tired of being informed. Let's excite, amuse, and maybe even wow them!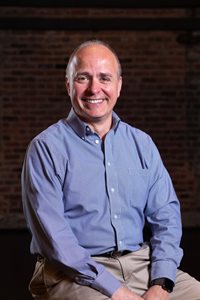 Jones Loflin
Speaker

Jones Loflin has made it his life's work to deliver powerful ideas and practical solutions to individuals around the world so they can achieve more of what is most important to them. His books are described as "illuminating" and his presentations as "unforgettable." In his 28 years as a speaker and coach he has helped countless people regain confidence in their ability to achieve greater success in work and life.

Jones' "3P Approach" of Powerful Ideas connected to Practical Solutions delivered with a Personal Approach has attracted the attention of organizations around the world. His client list includes Federal Express, Wal-Mart, Choice Hotels, Toyota, Bridgestone, and Tractor Supply as well as the United States military.

Looking for ways to expand the reach of his message, Jones chose to become an author. His book, Always Growing, is a fresh approach to leadership and offers powerfully practical strategies for individuals who have been leading for two days or two decades. Juggling Elephants is a witty and profound parable about one man's search for solutions for the struggle of too much do. The book is available in the US and over 14 countries. He is also the author of Getting The Blue Ribbon, a unique story offering simple strategies to get better results in your work and life. Getting to It is considered a field guide to accomplishing what is most important.

Prior to becoming an internationally-recognized speaker, Jones was an educator. His past work also includes serving as the "Trainer of Trainers" for the best-selling book, Who Moved My Cheese? Jones holds a BS and M.Ed. from North Carolina State University. He is a member of the National Speaker's Association as well as the Association for Talent Development.

Jones believes the key to success is being passionate about certain things in life, including family, spiritual beliefs, career and relationships. His favorite quote is by Zig Ziglar: "Go as far as you can see by faith, and when you get there you can see farther."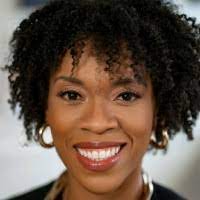 Dr. Melissa Crum
Equity and Diversity Practitioner

Dr. Melissa Crum is an artist, author, researcher, and founder of the consulting company, Mosaic Education Network, LLC. Mosaic infuses the arts, research, storytelling, and critical thinking into professional development, community building, and curriculum development.

Dr. Crum has facilitated training sessions across the U.S., creating a non-judgmental and refreshingly honest look at privileges and privately held beliefs. Her workshops focus on workplace culture development, equipping educators, leadership, staff, and board members with the skills to implement inclusive and equitable practices.

By creating a brave space, Dr. Crum's workshops allow organizations to critically investigate policies, workplace and learning culture, and relationship dynamics. Together, she empowers teams to positively dismantle systemic patterns, build authentic communication, and instigate radical growth organization- wide.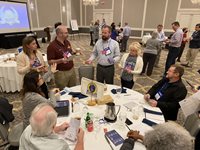 Eagle's Flight
Eagle's Flight has been developing training and development solutions that deliver results for a wide variety of organizations, including over 50 percent of the Fortune 500 for the past 30 years. Last year they lead attendees through their Promises, Promises program, and this year they will take us through their Windjammer program. In their Windjammer program attendees will vie for an edge in an exceedingly active marketplace of high-end sailing products. In this engaging sailing-themed experiential activity, attendees will race to acquire raw materials from other teams, manufacture specialized products, and sell them when the market demand is highest. But profit margin is not the ultimate measure of success in this nautical landscape – true victory is a performance beyond expected results. In order to capitalize on every opportunity, negotiation and teamwork will be essential to success.

Click here to register.

AGENDA

Thursday, Sept. 22

9 a.m.
Registration and Coffee

9:30 a.m.
Critical Reflection with Peers
Dr. Melissa Crum
This workshop uses artworks to explore how we think about people who we see as different from us in order to come to terms with our perceptions and possible misconceptions. Participants learn that forgiveness is a key component of critical reflection with peers, are offered tools to explore the complexity of identity, and make connections to how people experience belonging in a system, institution, or community.

11:30 a.m.
Lunch

12:30 p.m.
Say Hello To A Whole New Way To Communicate -- How To Talk Your Way To Better Results In Today's World
Jones Loflin
Key Learning Objectives: At the end of this presentation, participants will be able to:
Identify the impact biases have on their communication with others

Understand the 3 levels of listening and their influence on relationships

How to use "bridging language" to better connect with others in difficult conversations

Create a consistent plan for communicating with team members that enhances trust

Choosing the right technology solution when you want to be most effective in the delivery of your thoughts

Use questions that illicit the most helpful responses from team members

Follow a "positive accountability" model when addressing problems with team members

5 p.m.
Improvisation to Improve Leadership Skills and build a Yes, And mindset
Katlin Hall
Key Learning Objectives: At the end of this presentation, participants will be able to:
Understand the importance of asking clarifying questions, checking in with others, and creating a space to do so

How to effectively brainstorm and think creatively about problems

Create a culture of continuous collaboration

Foster a 'Yes, And' mindset and how to apply the principles of 'Yes, And' into everyday actions

Looking to others for help, even as a leader builds trust in teams

6:30 p.m.
Reception
Heavy hors d'oeuvres

7:30 p.m.
Dinner on your own
Enjoy Downtown Columbus



Friday, Sept. 23

7:30 a.m.
Breakfast

8 a.m.
"Windjammer with Crew Expectations"
Eagle's Flight
Key Learning Objectives: At the end of this presentation, participants will be able to:
The ability to change tactics quickly allows you to make optimal use of available resources

Understanding required roles and resources is crucial to success

Success means delivering financial and relational results

When faced with obstacles, take the opportunity to stop, refocus and move forward

12 p.m.
Adjournment/Lunch

Click here to register.

School Business News
June 22 Members on the Move read more